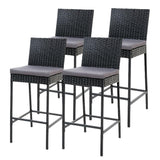 Despite the name, our lightweight Zero Gravity Recliner can easily take up to 150kg of body weight under gravity. After all, it's made for your reclining enjoyment all the time.
With its contemporary design and sleek finish, the Zero Gravity Recliner is simply one of a kind. The unique tie-downs with the one-piece ventilated plastic mesh is a definite talking point. Everytime you have a seat, you're assured of a sit-down free of stress and heat. But more importantly, the Recliner does its job perfectly in letting you lounge in comfort with the padded headrest and pleasurable seating. The Recliner can be adjusted to recline between 90 and 166° to enable you to obtain maximum pleasure from relaxing on it. In fact, the Recliner can even help to ease some of your back pains and aches as there is less pressure exerted on your lower back with your legs elevated.
Built with a sturdy metal frame with non-slip rubber shoes along the base, the Recliner is aptly suited for reliable use. Not least, the Recliner has a flexible locking mechanism and can be easily folded to bring it anywhere to enjoy. On the patio, at the beach, camping or on a road trip with your campervan, the Zero Gravity Recliner is a must-have to add to your relaxation activities.
Features:

 Ventilated one-piece mesh seat

 Textilene fabric
Removable and adjustable padded headrest

 Steel frame

 Able to recline up to 166°

 Foldable design

 Lightweight and durable

 Non-slip feet

 Easy assembly
Specifications:

 Seat frame: Steel

 Seat fabric: Textilene

 Maximum holding weight: 150kg

 Folding dimensions: 94 x 64cm

 Height: 85 ~ 111cm

 Length: 66 ~ 143cm

 Width: 66cm

 Colour: Grey
Package Contents:

 2 x Zero Gravity Chair
The rise in COVID cases has significantly impacted delivery as labour shortages everywhere. We are closely working with our delivery agent and taking every step to make sure there is a COVID free delivery.



 Every order will get tracking information

 12 months warranty included

 Delivery Australia-wide
All items are dispatched from our warehouse in Melbourne or Sydney, Australia within 24 hours after payment has been cleared. We deliver Australia wide, some regional areas may be excluded.
To offer quality products at very low cost, we will always hire the most economical third-party courier companies (Toll Ipec, Direct Freight, Fastway Couriers, Hunter Express) to deliver your order.
*Contact us prior to placing order if you have a preferred courier
It's important to note that we do not control any third-party courier companies' operations and cannot be responsible for delivery time frame or delay, any promise or ETA they made to you. We follow a standard delivery time frame as listed below:

• Victoria, approximately 8 - 13 working days;
• NSW, SA, ACT, QLD, approximately 10 - 15 working days;
• WA, NT and TAS, approximately 12- 19 working days.

We are doing everything possible to keep delivering during the Coronavirus pandemic. However, the challenges presented by the pandemic mean there are delays as our business adopts additional safety measures to protect our people and customers. Other factors contributing to delays include fewer domestic transport and increased volumes as more people start shopping online.
Order Track
Once your order is dispatched you will receive a tracking number which can be used on courier's website to track delivery status. To avoid delivery disappointment, we highly recommend that you contact appointed courier company directly to make an appointment for your desired delivery time.
Toll IPEC: 1300 865 547
Fastway: https://www.fastway.com.au/contact-us/
Hunter Express: 02 9780 4099
Direct Freight: 1300 347 397
Auspost: https://auspost.com.au/mypost/track/#/search
Allied Express: 131373
Standard Delivery Time Frame
Most third-party courier companies will attempt delivery on weekdays during business hours only (9am to 5pm). If you are unable to receive deliveries during business hours please contact us at contact@ozily.com.au and we shall try our best to find a solution to workaround this issue.
What will happen if I won't be at home to accept delivery
To make sure you receive your order in time, unattended delivery / ATL (item to be left without signature) will be set by default for all deliveries unless delivery address is for apartments OR you contact us prior to dispatch that you wish to sign for delivery. In the event of unattended delivery / ATL, buyer accepts the risk for theft or others damages to item left at premise.
We suggest that you have your order delivered to an address where someone will be present during business hours to sign for the delivery.
What if I missed my delivery
If you are not at home and the driver deems it not safe to leave the item at your address, a "sorry we missed you card" will be left and item(s) will be re-directed to your nearest depot. We highly recommend you to pick up the missed item directly from courier's depot as re-delivery can be arranged but additional charges may apply.
PO Box or Parcel Locker delivery
We cannot deliver to PO boxes or Parcel Lockers because they're usually too small to accept most of the items we sell. Most of our goods are delivered by courier or specialist furniture carrier directly to your door and require a signature upon delivery.
Delivery Charges
Delivery charges to other states may differ depending on the item's weight and vary based on your suburb/postcode.
Ozily generally offers a 12-month warranty on all products, unless stated otherwise. Some products will be provided with extended warranty for your peace of mind. Electronics products come with a 3-month warranty. Please refer to the product listing for the warranty period.

You are required to notify Ozily within 5 working days in the unlikely event that the item arrives damaged or faulty. In addition to a detailed description, you are required to provide images and/or both a clear short video clip if more appropriate of the damage in order to proceed with the warranty process. Once assessed and approved by our customer service team, you will be contacted to proceed with the return, refund or replacement process. Please do not attempt to return the item without our approval.

To make a claim, you must provide us with a copy of your tax invoice or any kind of proof showing that you purchased the item from us. You need to also describe the problem precisely and provide evidence to support your claim, and state whether you are requesting a replacement, repair, refund or credit.

Refund process starts after the product is back in the warehouse. Refund money generally takes up to 2 working days to process and will notify you once the refund has been processed. However, please allow an additional 5 working days on top for your financial institution to process it.

A refund or replacement will not be provided if products are being misused, mishandled or mistakenly installed. Customers are responsible for following the instructions and advice given by the manufacturers.
Does not cover the following:
Normal wear and tear
Damage arising from improper assembly or modification
Damage arising from abnormal use or abuse
Damage, wear and tear as a result of improper or lack of maintenance and/or care
Damage to external or product packaging only
How to Return
We will arrange a pickup from your given address, simply let us know the date and time and we will do the rest.
Ozily offers 5-day Change of Mind Policy.
• We only accept change of mind within 5 days after the item is delivered
• Please send an email including pictures and/or both clear video of the condition of the product received and an explanation of why they would like to return the product and if the item is eligible for return.
• Product has to be in original packaging.
• We will notify as to whether or not we require the product to be returned to us. Please do not return the product to us without our prior consultation – credit will not be given in this case.
• If we require the product to be returned to us, we will provide a return post label. We will not refund postage if the customer does not use our return label.
• If return label provided to you, we will refund the total order amount MINUS initial postage, return postage and restocking fee of 15%
• If return label NOT provided to you, we will refund the total order amount MINUS initial postage and restocking fee of 15%
• If customers change their mind before the item is received and require the action of RTS (Return to Sender), we will refund the total order amount MINUS initial postage and restocking fee of 15%
More from this collection
Liquid error (templates/product line 23): Error in tag 'section' - 'product.sections' is not a valid section type